Product Description
| | | | | | | | |
| --- | --- | --- | --- | --- | --- | --- | --- |
| MODEL | P | T | t | h | H | b | d |
| S16 | 100 | 30 | 15 | 27 | 8 | 16 | 14 |
| P102-W385 | 102 | 30 | 13 | 27 | 9 | 14 | 14 |
| RUS270 | 123 | 50 | 24 | 46 | 16 | 25 | 20  20.5 |
| Z20 | 125 | 50 | 24 | 48 | 15 | 26 | 20 |
| P140 | 140 | 78 | 31 | 50 | 19 | 32 | 25 |
| Z30 | 142 | 64 | 28.5 | 50 | 18 | 30.5 | 25 |
| 150 | 150 | 38 | 18 | 40 | 10 | 20 | 18 |
| P155 | 155 | 79 | 39.5 | 63.5 | 36 | 40.5 | 30 |
| Z25 | 160 | 58 | 28 | 55 | 18 | 30 | 25 |
| YD310 | 200 | 43 | 20 | 47 | 12 | 22 | 20 |
| A-3634 | 216 | 64 | 26 | 72 | 20 | 28.5 | 35 |
| X63 | 250 | 60 | 28 | 70 | 20 | 30 | 25 |
| P260 | 260 | 72 | 32 | 75 | 20 | 34 | 32 |
         ZheJiang CZPT Precision Casting and Forging Inc. was established in 2003, covering an area of 40,000 square meter with 300 employees. In 2571, the company passed the quality management system certification of GB/T 19001-2016 and ISO 9001:2015, and has a number of invention patents.It is a national high-tech enterprise.
        Our main products are bucket teeth,side teeth,bucket adapter for excavator and loader; Forged pipe coupling for concrete pump ; Drop forged chain for scraper conveyor, etc. Other casting and forging parts canalsobecustomized accordingto customer drawings. The main materials are alloy steel, high manganese steel, gray iron, ductile iron, etc.
       Our company can produce casting range in 0.1kg-2tons, forging range in 0.1kg-100kgs, casting and forging annual capacity of 10,000tons.From productdesign, mold development to heattreatment, machining and spraying, we provide the whole processof internal manufacturing to better control the cost and quality.
       ZheJiang Plus Import and Export Trading Co., Ltd. was established in 2571, is Wanxin's subsidiary, mainly responsible for marketing and export.
FAQ
Q1.Are you a manufacturer or a trading company?
we are totally manufacturer of machinery parts.
Q2.Can i get samples for checking the quality?
we can provide free samples,but you need to pay the freight.
Q3.What's your MOQ?
For normal prodcuts,we don't have MOQ.
For customerized products,we will tell you MOQ based on your drawing.
Q4.What's your delivery time?
it's about 7-45 days based on your quantity.
| | |
| --- | --- |
| Material: | Alloy |
| Structure: | Roller Chain |
| Surface Treatment: | Electroplating |
| Chain Size: | 1/2"*11/128" |
| Feature: | Fire Resistant, Oil Resistant, Heat Resistant |
| Warranty: | 12 Months Warranty |
Samples:

US$ 100/Piece

1 Piece(Min.Order)

|
Request Sample
Customization:

Available

|

Customized Request
Can a conveyor chain be used in high-speed applications?
Yes, a conveyor chain can be used in high-speed applications depending on the design and specifications of the chain and the conveyor system. However, there are certain factors to consider when using a conveyor chain in high-speed applications:
1. Chain Design: The design of the conveyor chain should be capable of handling high speeds without compromising safety or performance. Specialized high-speed chains are available that are specifically engineered to withstand the demands of high-speed applications.
2. Material Selection: The material used in the construction of the conveyor chain should have high strength and durability to withstand the forces and stresses at high speeds. Common materials for high-speed conveyor chains include alloy steels, stainless steel, and special polymers.
3. Lubrication: Proper lubrication is crucial in high-speed applications to reduce friction, heat, and wear. Lubricants specifically designed for high-speed conveyor chains should be used to ensure smooth operation and extend the chain's lifespan.
4. Tensioning and Alignment: Accurate tensioning and alignment of the conveyor chain are critical for high-speed applications. Proper tensioning helps to maintain the chain's stability and prevent excessive vibrations or elongation, which can lead to chain failure or premature wear.
5. Safety Considerations: High-speed applications require additional safety measures to protect personnel and equipment. Proper guarding, emergency stop systems, and regular maintenance inspections are essential to ensure safe operation.
It's important to consult the conveyor chain manufacturer or an engineering professional to determine the suitability of a specific chain for high-speed applications. They can provide guidance on selecting the appropriate chain design, material, lubrication, and maintenance practices to ensure reliable and efficient operation at high speeds.
Can a conveyor chain be used for heavy-duty applications?
Yes, a conveyor chain can be used for heavy-duty applications. Conveyor chains are specifically designed to handle heavy loads and provide reliable transportation in industrial environments.
Here are some factors that make conveyor chains suitable for heavy-duty applications:
1. Robust construction: Conveyor chains are typically made from high-strength materials such as alloy steel, stainless steel, or hardened carbon steel. These materials offer excellent durability and can withstand the heavy loads and harsh operating conditions commonly found in heavy-duty applications.
2. High load-carrying capacity: Conveyor chains are designed to handle significant loads, including heavy products, bulk materials, or large components. The chains are engineered with appropriate pitch, link dimensions, and strength to ensure reliable transport of heavy items.
3. Fatigue resistance: Conveyor chains are built to withstand repetitive stress and fatigue caused by continuous operation under heavy loads. They undergo specific heat treatments and surface hardening processes to enhance their resistance to wear, fatigue, and deformation.
4. Customization options: Conveyor chains can be customized to meet the specific requirements of heavy-duty applications. This includes selecting the appropriate chain type, pitch, attachment design, and surface coating for improved performance and longevity.
5. Compatibility with heavy-duty equipment: Conveyor chains are designed to integrate seamlessly with heavy-duty conveyor systems, including large motors, drives, and supporting structures. This ensures proper power transmission and smooth operation even in demanding environments.
6. Safety features: Conveyor chains for heavy-duty applications often incorporate safety features such as overload protection, emergency stops, and monitoring systems to ensure the safety of operators and prevent damage to the equipment.
It's important to consult with a qualified engineer or conveyor manufacturer to select the appropriate conveyor chain and system components for the specific heavy-duty application. They can provide guidance on chain selection, system design, and maintenance practices to ensure optimal performance and reliability.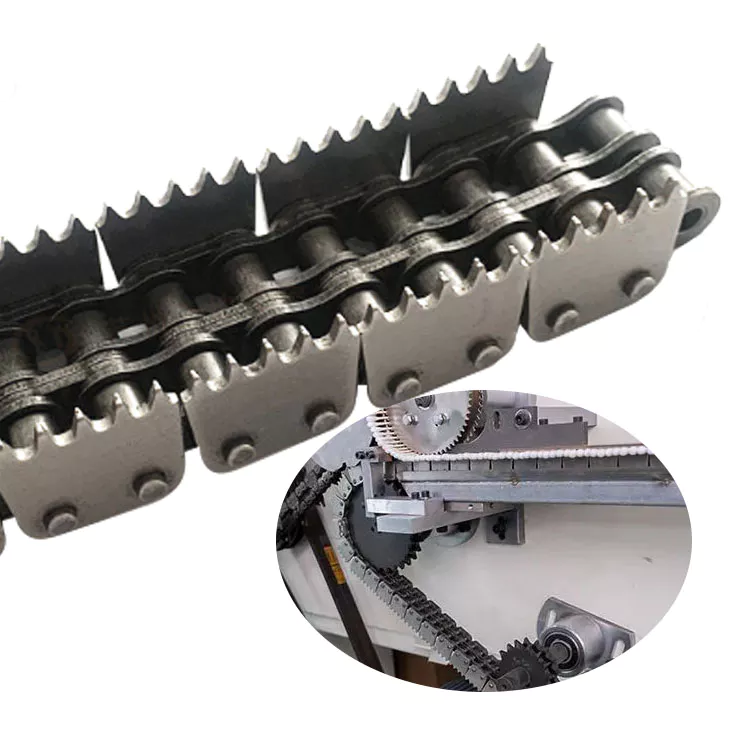 How do you properly tension a conveyor chain?
Properly tensioning a conveyor chain is crucial for its smooth operation and to prevent issues like chain slipping or excessive wear. Here are the steps to properly tension a conveyor chain:
Identify the Tensioning Points: Determine the locations where the conveyor chain can be tensioned. These are typically at the ends of the chain or at specific tensioning devices.
Loosen the Tensioning Devices: If there are tensioning devices in place, such as adjustable bolts or tensioning screws, loosen them to allow for adjustment.
Apply Tension: Apply tension to the conveyor chain by either manually pulling the chain or using a tensioning tool. The amount of tension required depends on the chain type and the manufacturer's recommendations.
Check the Tension: Use a tension gauge or other suitable method to measure the tension of the conveyor chain. The tension should fall within the specified range provided by the chain manufacturer.
Adjust the Tension: If the tension is too loose or too tight, make adjustments accordingly. Tighten or loosen the tensioning devices until the desired tension is achieved.
Secure the Tensioning Devices: Once the proper tension is achieved, securely tighten the tensioning devices to hold the chain in place.
Verify the Tension: After tensioning the chain, perform a visual inspection and run the conveyor to ensure the chain runs smoothly without excessive slack or tightness. Make any further adjustments if necessary.
It's important to refer to the specific guidelines provided by the conveyor chain manufacturer for proper tensioning instructions, as the exact method may vary depending on the chain type and design. Regularly check the tension of the conveyor chain and make adjustments as needed to maintain optimal performance.



editor by CX 2023-08-14