Product Description
Product Description
Product Discription:
1. DIN8187 ISO/R 606 and DIN8188 ISO/R606-ANSI B29.1.
2. Simplex / Duplex / Triplex / Multiple.
3.45C steel, Tooth Hardness.
5. Surface: Shot Blasting Natural/Black/Blue/ Nickel plate/ Zinc plate.
Product Advantages:
1. Good quality, surface of sprockets is smooth, shiny and beautiful.
2. Competitive price.
3. Prompt Delivery.
4. Green Product.
5. International Approval
Product Attribute
Product name 
Sprocket
 
Surface Treatment
Annealing, natural anodization, heat treatment,  polishing, nickel plating, chrome plating, znic plating,Black surface painted etc.
 
Products Available
Transmission machinery such as mining machinery, agricultural machinery, engineering machinery, forestry machinery, petrochemical industry, automatic assembly lines, etc
 
material
carbon steel,stainless steel, alloy steel
 
Certificate
ISO,SGS,DIN,JIS
 
product type
European Standard American Standard
 
Port
Any sea port or airport in China
 
Brand
TV OEM
 
Payment
L/C, T/T, D/P, Western Union
 
Package
Chain, Plastic Bag, Color Box, Wooden Case. or OEM
 
European standard 
03A-1 04A-1 05A-1-2 06A-1-2-3 081A-1 083A-1/084A-1 085A-1 086A-1

08A-1-2-3 10A-1-2-3 12A-1-2-3 16A-1-2-3 20A-1-2-3 24A-1-2-3

28A-1-2-3 32A-1-2-3
 

03B-1 04B-1 05B-1-2 06B-1-2-3 081B-1 083B-1/084B-1 085B-1 086B-1

08B-1-2-3 10B-1-2-3 12B-1-2-3 16B-1-2-3 20B-1-2-3 24B-1-2-3

28B-1-2-3 32B-1-2-3
 

American standard 
25,35,41,40,50,60,80,100,120,140,160,180,200,240

35-2,40-2,50-2,60-2,80-2,100-2,120-2,140-2,160-2,200-2

35-3 ,40-3 ,50-3 ,60-3 ,80-3, 100-3,120-3
 

We also carry out OEM according to your requirements
 
Product Parameters
Recommended Collocation
The chain drive consists of 2 sprockets and an intermediate flexible piece – the chain, which is wound around the 2 wheels. The motion and power between 2 parallel shafts are transmitted by the meshing between the chain and the sprocket, which belongs to the forced transmission with meshing properties. Among them, the most widely used is the roller chain drive.
Our Advantages
Company advantages:
Own Import & Export License, The TV trade mark registered successfully in many countries, Sales network spread all over China, Products export to 65 countries in 5 continents.
Membership:
1. The member of China General Machine Components Industry Association.
2. The member of China Chain Transmission Association.
3. The member of China Chain Standardization Association.
4. The member of China Agricultural Association Machinery Manufacturers.
With our excellent trained staffs and workers, advanced and efficient equipments, completely sales network, strict QA systems. You are confidence that our premium qualified chain can meet all customers' specification and strictest quality standards.
Factory Display
Comprehensive Product Portfolio We produce and supply a wide range of power transmission
products including drive chains, leaf chains, conveyor chains, agricultural chains, sprockets, and
couplings. This one-store-for-all shopping experience will significantly reduce your searching costs while
guarantee youfind what you want at 1 click.
Value Choice Products Our products are the best combination of quality and price, and you get what
you want within your budgets
Seasoned Sales Associates and Engineers We have 15 seasoned sales associates and 5 engineers;
on our team at your disposal any time when you need a helping hand. They are well trained with industry
know-now and will always respond to your requests within 24 hours.
100% Customer Retention Rate Our regular customers from overseas come back not just for our
premium quality products, but for the superior services that we've provided over the years.
 
FAQ
Q1: What's your average lead time?
A: It varies. Our regular end-to-end lead time is 1-2 months.. We also provide express shipments for rush orders. For details,please consult our sales associate.

Q2: Is your price better than your competitors given the same quality?
A: Definitely YES. We provide the most competitive price in the power transmission industry. If price disparity exists, we'll be more than happy to do a price match.
Q3: Can you make chains according to my CAD drawings?
A: Yes. Besides the regular standard chains, we produce non-standard and custom-design products to meet the specific technical requirements. In reality, a sizable portion of our production capacity is assigned to make non-standard products.

Q4: Can we inspect the goods before shipment?
A: Yes. You or your representative or any third-party inspection party assigned is allowed access to our facility and do the inspection.

Q5: What kind of payment method is acceptable for your mill?
A: We're flexible. We take T/T, L/C, or any other online payment methods so long as it's applicable for you.

Q6: What if I have any other questions?
A: Whenever in doubt, you're always encouraged to consult our sales associate any time – They will help you to your satisfaction.
 
Shipping Cost:

Estimated freight per unit.





To be negotiated
| | |
| --- | --- |
| Standard Or Nonstandard: | Standard |
| Application: | Machinery |
| Hardness: | Hardened Tooth Surface |
Samples:

US$ 10/Piece

1 Piece(Min.Order)

|

Order Sample
Customization:

Available

|

Customized Request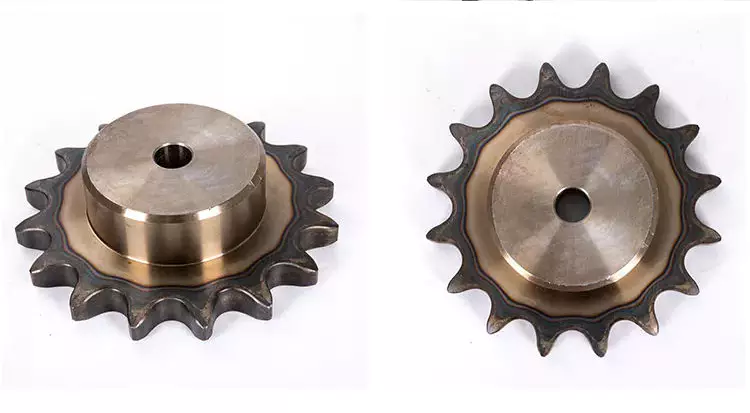 How to choose the right sprocket
Knowing the size of the chain is important when looking for the right sprocket. Also, you must know the number of teeth you need and their angle. The angle between the teeth is equal to 360 degrees divided by the number of teeth. This information will help you find the right sprocket for your specific application.
Long Through Hole
Sprockets are critical to the efficiency and uptime of roller chain drives. To ensure your sprocket is installed correctly, it is important to know the dimensions of the sprocket, including its outside diameter, through-hole length, and hub diameter. Pore ​​size is also an important consideration. Most sprockets have a 1/8″ bore, while others may have a larger bore.
Sprockets are usually secured to the shaft using ANSI standard-sized keyways and set screws. However, not all sprockets are compatible with all shaft diameters, so it is important to check the keyway size before purchasing.
Sprockets are available in a variety of styles and configurations. Some types of sprockets are welded to a solid hub, while others are bolted or split to the hub. Both types have different adjustments and you can easily change them without disassembling the device. Sprockets can be purchased from many US manufacturers in A, B or C hub configurations. For example, the hub diameter of an A-type sprocket determines its width, while a B-type sprocket has a hole for a bushing.
Sprockets are used in chain-driven motion systems, usually to carry heavy loads. It is very important to choose the right app for the right app to avoid damaging your device. If you're not sure, learn about your system and how it's assembled.
face width
The face width of the sprocket is limited by the meshing clearance with the chain. It does not affect tooth length. The outside diameter of the chain tip may vary depending on the type of tool used. Dimensional tolerances for keyways and set screws are also important.
diameter
One of the most important characteristics of a sprocket is its diameter. The diameter of the sprocket is used as a guide for choosing the proper sprocket size for your bike. Its number of teeth and diameter also affect the size of the chain.
The diameter of a sprocket is a function of its pitch or the distance between the centers of the link hinges. Diameters are in millimeters and expressed in standard ANSI chain numbers. Popular spacing is 3/8″ or 1/2″.
In order to make the chain drive smoothly, the sprocket and the chain should be properly matched. Incorrect pitch sprockets can damage the chain and shorten its life. Sprockets should provide precise tooth count, consistent pitch, and high wear resistance. It should also be designed to be rigid and impact resistant. CZPT chain suppliers can custom design sprockets in a variety of sizes, pitches, and diameters to suit your needs.
The number of teeth on the roller sprocket is also important. This is because the sprocket is in contact with the chain, causing frictional wear. The teeth on the sprocket can affect the durability of the chain, which is why choosing a sprocket with hardened teeth can change the world.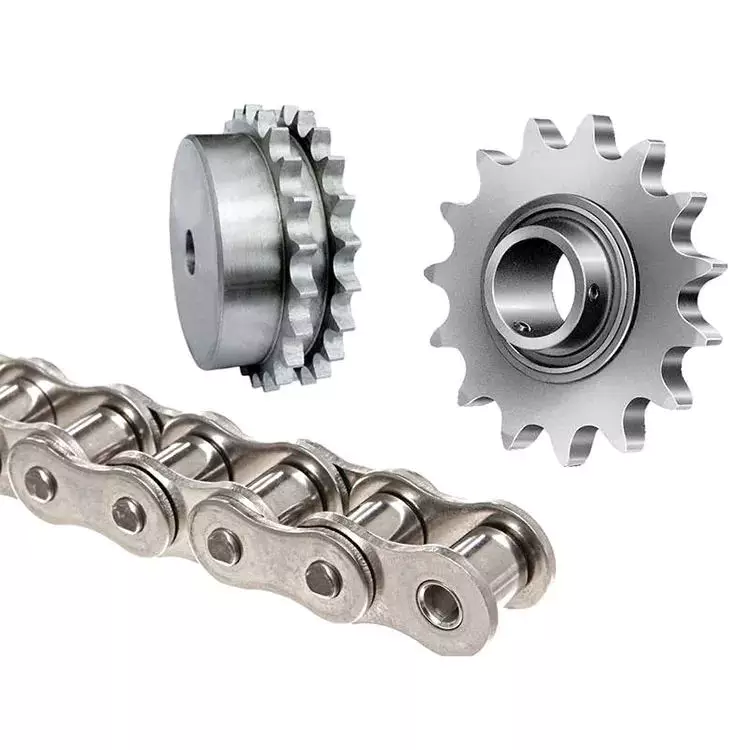 hub type
The hub type of the sprocket is key to proper engagement with the chain. Several options are available. The sprocket hub type is cylindrical and is available in a variety of sizes and styles. Sprockets are usually made of steel or stainless steel.
There are four main types of hubs for sprockets. They come under different names from different manufacturers, but they all share some common characteristics. These include Types A, B, and C. Each type has its own advantages and disadvantages. A-Plate sprockets are flat and have no hubs, while B-Hub sprockets are flat with hubs mounted on one side of the plate. C-shaped sprockets extend on both sides of the plate for larger pitch circle diameters and heavier axles.
A sprocket with a large pitch diameter needs a sprocket with a large pitch, and a chain with a small pitch diameter needs a chain with a small pitch. A-type sprockets are smaller and fit more closely to the equipment, while C-type sprockets need to be wider and thicker to carry more weight. Also, the pitch diameter is important because it determines whether the sprocket will fit correctly with the chain.
Steel split sprockets are easy to install and remove. They are held together by bolts on the hub, ranging in pitch size from 40 to 240. They are typically used in applications involving multiple drive shafts.
HZPT ZTB series
ZTB sprockets are an important part of a bicycle chain system. Its uptime is very important to maximize uptime and efficiency. key cSelect sprockets are characterized by size, pitch and bore. MDS accepts sprockets of various bore diameters from 1/2″ to 2″.
A sprocket is a wheel-like structure with teeth on the end. These teeth interlock with the chain, allowing simple rotational movement of large machines and equipment. ZTB sprockets are an excellent choice for a wide range of applications, including construction and agricultural machinery.
ISO sprockets have a suffix number indicating the number of chains in the chain. For example, 16B-2 sprockets have 1″ pitch and dual spools. If you're buying sprockets for your bike, be sure to check the sprocket pitch.
The teeth on the sprocket are responsible for frictional wear, so choosing the right teeth is critical. The right teeth can increase the life of the sprocket and chain. A good sprocket has at least 17 teeth. Sprockets with a higher number of teeth last longer without causing chain slip. Typically, the teeth are the same material as the sprockets, but you can find removable teeth for a more affordable option. The teeth on the sprocket can also be hardened. Induction hardening is the most commonly used process.
ZTB sprockets can be made from many different materials. Some materials are more expensive than others, while others are softer and stronger. If you're not sure which one to buy, try explaining the difference between the different sprockets to the sprocket manufacturer. They should be able to give you details about their interchangeability and quality.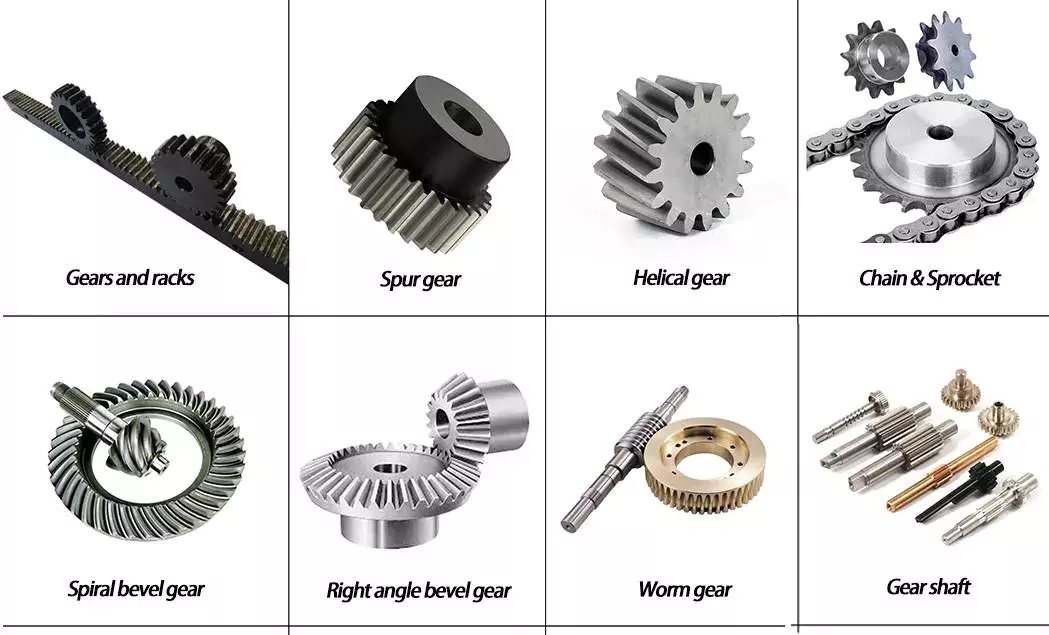 set screw
Set screws are screws designed to hold two or more parts together. There are many different types of set screws, each with a different purpose and design. They usually come in imperial and metric sizes with a hex socket driver on one end and a cup tip on the other. They are made of hardened steel and have a black oxide finish. Some varieties have flanges, while others don't.
Set screws with chain studs can be used in a variety of applications. For example, they can be used in agricultural equipment, heavy equipment and other industries. They come in several different sizes and thread sizes and are available in a variety of designs. Some are specific to the mining industry, while others are more general.
The company also offers custom setscrews, as well as hex, spline, square and socket heads. They have the capability to manufacture fasteners ranging from carbon steel to nickel and silicon bronze. Their products also meet Mil-I-4528 and QS 14000 standards.



editor by CX 2023-07-13