Product Description
Product introduction
1. Size 6mm to 22mm, alloy steel 25MnV or 20MN2,
24mm to 42mm using imported German 23MnNiMoCr54 alloy steel
2. Surface: self-coloring, painted black; Plastic coated galvanized
3. Safety factor :4:1
4. Comply with EN818-2 standard
5. Standard CHINAMFG or customer requirements, at least 1 meter apart
6. Serial number printed on high power round steel chain;
All production and certification dates are also recorded. Mark once per Meter run.
Lifting and rigging chain has been 1 of the most popular rigging products on the market for many years, mainly due to its strength, durability, and ease of use. All our alloy steel rigging and lifting chain is heat treated to offer industry leading load capacity and durability. Some steel rigging chains are approved for overhead lifting, while others are not, so it is important to always know what type of lifting chain your specific rigging application requires
Product specification
| | |
| --- | --- |
| Product name | 10mm Grade 80 Chain Lift Anchor Transport Welded Alloy Carbon Stainless Steel Heavy Duty Lifting Chain with Hook |
| Grade | Grade 80 Grade 100 or as your request |
| Size | 4/5/6/7/8/10/11/12/13/16/19/20/22/28/32mm or as your request |
| Color | Black , Self color ,Yellow , Red or As your request |
| Length | Custom |
| Material | Alloy steel, 20Mn2A, Stainless steel , high carbon steel . |
| Surface treatment | Blacken finished ,Hot dip galvanized , electroplating , powder coating ,black painted . |
| Structure | Welded chain |
| Process | Fully automatic deburring |
| Sample | Support |
| OEM&ODM | Support |
| MOQ | 2T |
| Standards | G30 G43 G70 CHINAMFG chains NACM/SATM chains |
| Certificate | ISO9001 & CE |
| Method of payment | T/T ,Western Union. |
| Key words | 10mm Grade80 Chain Lift Anchor Transport Welded Alloy Carbon Stainless Steel Heavy Duty lifting chain ;Single Leg CHINAMFG G100 EN818 polished Electric hot dip galvanized black finished painted lifting chain;Us standard black self color plated zinc strong chromate coating 1leg 2legs 3legs 4legs lifting chain |
HangZhou CHINAMFG CO, Ltd. The company is located in ZheJiang province on the east coast of China. As a professional chain manufacturer, QRE focuses on the production and technology of carbon steel, alloy and stainless steel chains, and has established a good reputation and reputation in the local market.
1. High quality alloy material, strong and durable.
2.Thick and bulky, not decoupling, carrying capacity is stronger. Any combination of rigging to meet different use requirements
3. Finishing is not only smooth surface, but also improve its wear resistance, corrosion resistance, rust resistance to obtain high hardness.
4. All kinds of hooks, rings, widely used in vehicles and boats, machinery, mines, ports and other lifting places.
Purpose of use
High strength chain for carrying heavy loads
Used for heavy lifting in mines and construction sites
Grade CHINAMFG lifting chain is an indispensable lifting device when lifting heavy objects. It is made of high-quality alloy steel(manganese steel,etc.),and the quality is strictly controlled throughout the whole process. Only in this way can the lifting chain reach Grade 80 international standard.
Company Profile
Founded in 1998, HangZhou Fuster Rigging Co., Ltd., formerly known as Xihu (West Lake) Dis. Chain Factory, is located in Xihu (West Lake) Dis. County of ZheJiang Province known as "The Gem City of China", and specializes in producing and marketing chain and rigging related products at home and abroad.
Our company has independent import and export operating rights, and can handle the certifications of CCS, LR, DNV and other famous classification societies for products. Our products are sold to dozens of countries such as Europe, America and Middle East as well as more than 10 provincial and municipal regions in China, and are widely applied to the fields of ships, steel, petrochemical industry, coal mine, etc.
In the principle of "Quality-honoring & Promise-keeping", our company meets the requirements of all the customers through service innovation, changes the original production state through technical innovation, improves the product quality through process innovation, and continuously goes to standardization, elaboration, process and scientification through the business thought of constant innovation.
Absolute CHINAMFG will move a heart of stone. Our company is willing to cooperate with domestic and foreign new/old customers in utmost sincerity, to create a common future!
The production process

How do we control quality:
a) Pay attention to adaptation for manufacture process 
b) Approval report for shipment 
c) Third party inspection is accepted
d) Keeping quality guarantee for a long period
e) Guaranteeing quality inspection of each product before assembly and packing.
f) Comply with ISO 9001
Packing and transportation
Why choose us?
1.Stable Brand Cooperation
2.High Quality Production
3.Excellent Service
4.High Quality Product
FAQ
1.How long is your delivery time?
A: Generally it is 5-10 work days if the goods are in stock. or it is 15-20 work days if the goods are not in stock, it is according to quantity.
2.What is your terms of payment ?
A: Payment=1000USD, 30% T/T in advance ,balance before shippment.
3.What products do you supply?
As mentioned above, HangZhou CHINAMFG Factory is capable of supplying:
√All kinds of marine supplies
√Chains
√Rigging hardwares
√Fasteners
√related hardwares
4.How do I receive the goods?
With our professional transport agents, we are capable of delivery products to most ports all over the world.Door-to-door service is also supported.
FOB, C&F, CIF are most commonly used trade terms.
5.Can you give warranty of your products?
A: Yes, we extend a 100% satisfaction guarantee on all items. Please feel free to feedback immediately if you are not pleased with our quality or service.
6.Where are you? Can I visit you?
A: Sure,welcome to you visit our factory at any time.
Certificate
Our team

Our foreign trade staff are all senior staff with more than 10 years of experience, and our foreign trade manager has more than 20 years of experience in foreign trade. In addition to providing you with the best products, we can also provide you with the best service
Shipping Cost:

Estimated freight per unit.





To be negotiated
| | |
| --- | --- |
| Usage: | Transmission Chain, Drag Chain, Conveyor Chain, Dedicated Special Chain, Lifting Chain |
| Material: | Alloy |
| Surface Treatment: | Baking Paint |
Samples:

US$ 0/Meter

1 Meter(Min.Order)

|

Order Sample
Customization:

Available

|

Customized Request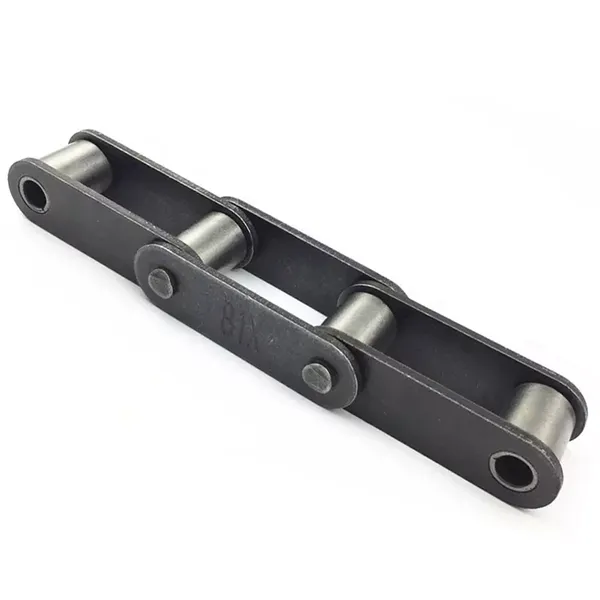 How does a conveyor chain handle accumulation and indexing applications?
In conveyor systems, accumulation and indexing refer to specific methods of controlling the movement and positioning of items along the conveyor line. A conveyor chain can effectively handle these applications through the use of specialized components and control mechanisms. Here's a detailed explanation:
Accumulation:
– Accumulation refers to the process of temporarily storing or buffering items on the conveyor to control the flow of materials. Conveyor chains designed for accumulation applications typically incorporate features such as low-friction chain guides, accumulating zones, and sensors.
– In an accumulation conveyor chain system, the chain is divided into discrete zones where items can accumulate. As products enter a zone, the chain slows down or stops, allowing items to accumulate without colliding with each other. Sensors or photoelectric cells detect the presence of items in each zone and provide signals to control the chain movement.
– The accumulation zones in the conveyor chain system can be controlled in different ways, such as through the use of motorized rollers, pneumatic devices, or electronic sensors. This ensures a controlled and synchronized flow of items along the conveyor line.
Indexing:
– Indexing refers to the precise positioning of items at specific intervals along the conveyor line. This is commonly used in applications where accurate positioning or sequencing is required, such as assembly or packaging processes.
– Conveyor chains designed for indexing applications incorporate specialized index pins, stops, or precision indexing drives. These components work together to accurately position items at predetermined locations along the conveyor.
– The indexing mechanism of a conveyor chain system can be driven by mechanical cams, servo motors, or programmable logic controllers (PLCs). The indexing motion can be synchronized with other processes or machines downstream to ensure precise assembly or packaging operations.
– By combining accumulation and indexing capabilities, a conveyor chain system can handle a wide range of applications, including sorting, buffering, sequencing, and automated assembly. It provides control over the flow and positioning of items, allowing for efficient material handling and optimized production processes.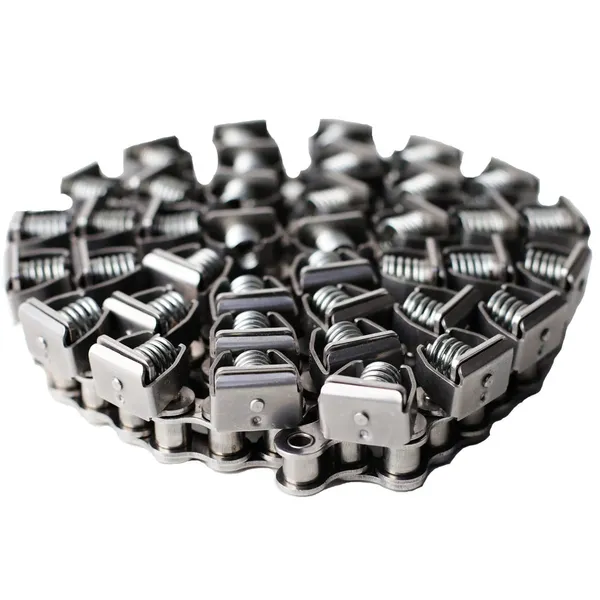 How do you calculate the power requirements for a conveyor chain?
Calculating the power requirements for a conveyor chain involves considering various factors. Here's a step-by-step process:
1. Determine the total weight to be transported: Measure or estimate the total weight of the material or product that will be carried by the conveyor chain. This includes the weight of the product itself, any packaging, and additional loads.
2. Determine the speed of the conveyor: Determine the desired speed at which the conveyor chain will operate. This is typically measured in feet per minute (FPM) or meters per second (m/s).
3. Calculate the required capacity: Multiply the total weight by the desired speed to determine the required capacity of the conveyor system. This will give you the weight per unit of time (e.g., pounds per minute or kilograms per hour).
4. Consider the conveyor's design factors: Take into account various design factors such as the type and pitch of the conveyor chain, the coefficient of friction between the chain and the conveyor components, and any incline or decline angles of the conveyor system. These factors affect the power requirements.
5. Determine the required power: Use the following formula to calculate the power requirements:
Power (in horsepower) = (Capacity × Friction Factor) ÷ (33,000 × Efficiency)
Where:
– Capacity is the weight per unit of time (from step 3)
– Friction Factor is the ratio of chain tension to chain weight, taking into account the design factors
– 33,000 is a conversion factor to convert the units to horsepower
– Efficiency is the overall efficiency of the conveyor system, typically expressed as a decimal value (e.g., 0.95 for 95% efficiency)
6. Select a suitable motor: Based on the calculated power requirements, select a motor that can provide the necessary power to drive the conveyor chain. Consider factors such as motor type, motor efficiency, and overload capacity.
It's important to note that the power requirements may vary depending on specific conveyor system designs and operating conditions. Consulting with a qualified engineer or conveyor manufacturer is recommended to ensure accurate calculations and proper motor selection.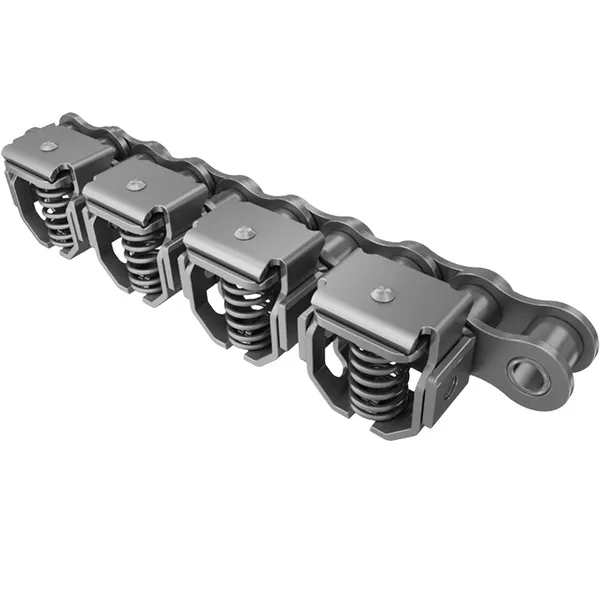 How to select the right conveyor chain for your conveyor system?
Selecting the right conveyor chain for your conveyor system is crucial to ensure optimal performance and longevity. Here are the steps to follow when choosing a conveyor chain:
Identify your application requirements: Determine the specific requirements of your conveyor system, including the type of material being conveyed, the speed of operation, the load capacity, the environmental conditions, and any special considerations.
Consider the chain type: Based on your application requirements, consider the different types of conveyor chains available, such as roller chains, double pitch chains, hollow pin chains, apron chains, or plastic chains. Evaluate their features and benefits to determine which type is most suitable for your needs.
Assess the chain material: Conveyor chains are typically made from various materials such as steel, stainless steel, or plastic. Consider factors such as corrosion resistance, temperature resistance, wear resistance, and food-grade requirements when selecting the chain material.
Determine the chain pitch: The chain pitch refers to the distance between the centers of adjacent pins. Choose the appropriate pitch size based on your conveyor system's design, load requirements, and speed. Smaller pitch sizes provide smoother operation at higher speeds, while larger pitch sizes offer better resistance against wear and fatigue.
Evaluate the chain strength: Consider the required tensile strength and fatigue resistance of the chain to ensure it can withstand the anticipated load and operating conditions. Factors such as chain construction, material quality, and heat treatment play a role in determining the chain's strength.
Consider additional features: Depending on your application, you may need additional features such as attachments, guides, or specialized coatings on the chain. Assess if any of these features are necessary to meet your specific requirements.
Consult with experts: If you're uncertain about the selection process or have unique application needs, it's advisable to consult with conveyor chain manufacturers or industry experts who can provide guidance and recommendations based on their expertise.
By following these steps and carefully considering your application requirements, you can select the right conveyor chain that ensures efficient and reliable operation of your conveyor system.



editor by CX 2023-09-25