Product Description
Duplex Short Pitch Precision Conveyor Roller Chain Transmission Chain (DIN764)
SHORT PITCH PRECISSION ROLLER CHAINS (B SERIES)
Material: Alloy Steel
Surface Treatment: Shot Peening / Blacking / Blueing
Main Application: Idustry machinery
ANSI CHAIN NO.: 05B-2  06B-2  10B-2  12B-2  16B-2  20B-2  24B-2  28B-2  32B-2  40B-2 48B-2  56B-2  72B-2
Pitch:8 9.525 12.7 15.875 19.05 25.4 31.75 38.1 44.45 50.8 63.5 76.2 88.9 101.6 114.3 
Product name 
 Duplex Short Pitch Precision Roller Chain (B series) Chain (DIN764)
Materials Available
1. Stainless Steel: SS201, SS303, SS304, SS316, SS416, SS420
2. Steel:C45(K1045), C46(K1046),C20
3. Brass:C36000 ( C26800), C37700 ( HPb59), C38500( HPb58), C27200(CuZn37), C28000(CuZn40)
4. Bronze: C51000, C52100, C54400, etc
5. Iron: 1213, 12L14,1215
6. Aluminum: Al6061, Al6063
7.OEM according to your request
Surface Treatment
Annealing, natural anodization, heat treatment,  polishing, nickel plating, chrome plating, znic plating,yellow passivation, gold passivation,  satin, Black surface painted etc.
Products Available
sprockt chains, pulley, shafts(axles, spline shafts, dart shafts),gears (pinions, wheels gear rack) bearing, bearing seat,  bushing, coupling, lock assembly etc.
Processing Method
CNC machining, punch,turning, milling, drilling, grinding, broaching, welding and assembly
QC :
Technicians self-check in production,final-check before package by  professional Quality inspector
Size
Drawings
Package
Wooden Case/Container and pallet, or as per customized specifications
Certificate
ISO9001:2008 , ISO14001:2001,ISO/TS 16949:2009
Advantage
Quality first Service superior , Advanced equipment,Experienced workers,Perfect testing equipment
Lead Time
15-25days samples. 30-45days offcial order
1. Are you manufacturer or trade Company?
We are a factory founded in 1991 with trade team for international service.
2. What terms of payment you usually use?
T/T 30% deposit and 70% against document, Western Union, L/C at sight
3. what is your lead time for your goods?
Normally 45 days after confirmed order. 30 days could be available in low season for some items (during May to July), and 65 days during new year and hot season ( Jan to March).
4. Do you attend any Show?
We attend Hannover show in Germany, NMW in Austrilia, Canton fair, PTC, in China and many other special furniture shows.
 
| | |
| --- | --- |
| Usage: | Transmission Chain |
| Material: | Alloy/Carbon Steel |
| Surface Treatment: | Polishing |
| Feature: | Heat Resistant |
| Chain Size: | 1/2"*3/32" |
| Structure: | Roller Chain |
Customization:

Available

|

Customized Request
Can a conveyor chain be used in pharmaceutical manufacturing?
Yes, conveyor chains can be used in pharmaceutical manufacturing for various applications. Conveyor systems play a crucial role in the efficient and safe transportation of pharmaceutical products throughout the manufacturing process. Here are some key considerations when using conveyor chains in pharmaceutical manufacturing:
1. Material Selection:
– Choose conveyor chains made from materials that are suitable for pharmaceutical applications, such as stainless steel or FDA-approved plastic. These materials offer corrosion resistance, cleanliness, and compliance with industry regulations.
2. Cleanliness and Sanitation:
– Ensure that the conveyor chain design allows for easy cleaning and sanitation. Smooth surfaces, minimal crevices, and access for cleaning equipment are important to maintain a hygienic environment.
3. Contamination Control:
– Implement measures to prevent contamination of pharmaceutical products. This includes using chain lubricants that are safe for pharmaceutical applications and implementing proper handling and storage procedures.
4. Product Protection:
– Choose conveyor chain systems that minimize product damage or degradation. This can include utilizing gentle product handling features such as low-friction surfaces, adjustable speed controls, and proper product spacing.
5. Regulatory Compliance:
– Ensure that the conveyor chain system complies with pharmaceutical industry regulations and guidelines, such as Good Manufacturing Practices (GMP) and the requirements of regulatory bodies like the FDA.
6. Integration with Equipment:
– Consider the integration of conveyor chains with other equipment in the pharmaceutical manufacturing process, such as labeling machines, filling machines, and packaging equipment. The conveyor system should provide seamless operation and synchronization with these machines.
By carefully selecting and designing conveyor chains specifically for pharmaceutical manufacturing, it is possible to meet the stringent requirements of the industry in terms of cleanliness, product integrity, and regulatory compliance.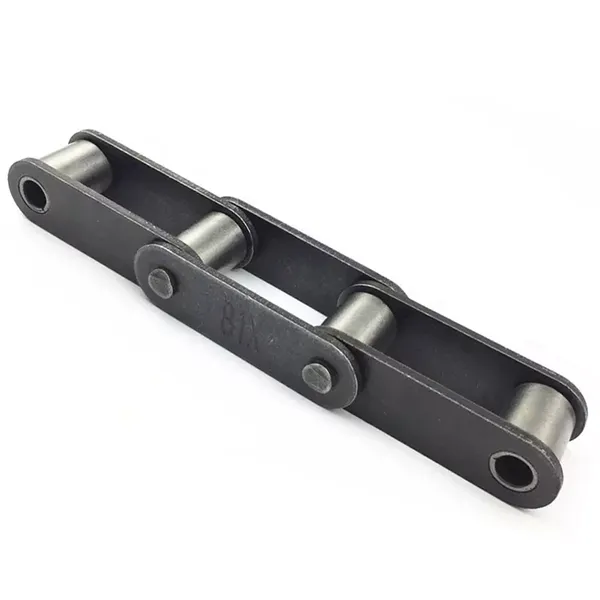 What are the future trends and advancements in conveyor chain technology?
The field of conveyor chain technology is constantly evolving, driven by the need for improved efficiency, productivity, and sustainability. Here are some of the future trends and advancements in conveyor chain technology:
1. Automation and robotics: The integration of conveyor chains with automation and robotics systems is a growing trend. This includes the use of advanced sensors, machine vision, and artificial intelligence to enable autonomous operation, precise positioning, and efficient material handling.
2. Smart and connected systems: Conveyor chains are becoming increasingly connected through the Internet of Things (IoT) technology. This allows for real-time monitoring, data collection, and analysis of various performance parameters such as chain wear, tension, temperature, and energy consumption. Smart systems can optimize maintenance schedules, detect potential failures, and improve overall system efficiency.
3. Lightweight and high-strength materials: The development of lightweight yet high-strength materials is an ongoing focus in conveyor chain technology. Advanced alloys, composites, and engineered plastics offer improved strength-to-weight ratios, reducing energy consumption and increasing the load capacity of conveyor systems.
4. Energy efficiency: Energy efficiency is a key consideration in conveyor chain design. Future advancements aim to minimize power consumption through the use of efficient drive systems, regenerative braking, and smart control algorithms that optimize speed and acceleration profiles. Energy recovery technologies, such as regenerative drives, can also capture and reuse energy during deceleration or braking.
5. Sustainability and environmental friendliness: Conveyor chain technology is moving towards more sustainable and environmentally friendly solutions. This includes the use of eco-friendly materials, improved lubrication techniques to minimize environmental impact, and the adoption of energy-efficient components and systems. Recycling and circular economy concepts are also gaining prominence in the design and manufacturing of conveyor chains.
6. Advanced wear monitoring and predictive maintenance: The future of conveyor chain technology involves advanced wear monitoring systems that can accurately predict the remaining useful life of chains and components. This enables proactive maintenance planning and reduces unplanned downtime. Predictive maintenance algorithms analyze data collected from sensors and provide timely alerts for chain replacement or repair.
These are just a few examples of the future trends and advancements in conveyor chain technology. As technology continues to advance, we can expect further innovations that enhance performance, efficiency, reliability, and sustainability in conveyor systems.
What are the advantages of using a conveyor chain in material handling?
Conveyor chains offer numerous advantages in material handling applications, making them a preferred choice in various industries. Here are some of the key advantages:
Efficient Transportation: Conveyor chains provide a continuous and reliable means of transporting materials, ensuring a smooth flow throughout the production or distribution process. They can handle both light and heavy loads, enabling efficient movement of items of different sizes and weights.
Increased Productivity: By automating the material handling process, conveyor chains help increase productivity and operational efficiency. They eliminate the need for manual handling and reduce human effort, allowing employees to focus on other tasks, resulting in higher throughput and reduced labor costs.
Flexibility and Customization: Conveyor chains can be designed and configured to meet specific material handling requirements. They are available in various lengths, widths, and configurations, allowing for customization based on the layout and space constraints of the facility. Additionally, different types of conveyor chains can be selected to handle specific materials or accommodate special handling needs.
Improved Safety: Conveyor chains enhance workplace safety by reducing the risk of manual lifting and carrying heavy loads. They provide a controlled and controlled movement of materials, minimizing the chances of accidents and injuries. Additionally, safety features such as emergency stop buttons, guardrails, and sensors can be incorporated into the conveyor system to further enhance safety.
Space Optimization: Conveyor chains utilize vertical and horizontal space efficiently, making them ideal for facilities with limited floor space. They can be designed to navigate corners, inclines, and declines, allowing for optimized layout and maximizing the use of available space.
Versatility: Conveyor chains are versatile and can handle a wide range of materials, including bulk items, packaged goods, fragile items, and irregularly shaped objects. They can accommodate different types of conveyance methods such as flat, inclined, or spiral conveyors, providing flexibility in material handling processes.
Improved Inventory Control: Conveyor chains enable better inventory control by facilitating the smooth movement and tracking of materials. They can be integrated with barcode scanners, RFID technology, or other tracking systems to monitor the flow of goods and provide real-time information on inventory levels.
Reduced Material Damage: Conveyor chains help minimize material damage during handling and transportation. They provide a stable and controlled movement, reducing the risk of items falling or getting damaged due to manual handling or rough transportation methods.
The advantages of using a conveyor chain in material handling include improved efficiency, productivity, safety, space utilization, and inventory control, leading to cost savings and enhanced overall operational performance.



editor by CX 2023-09-12