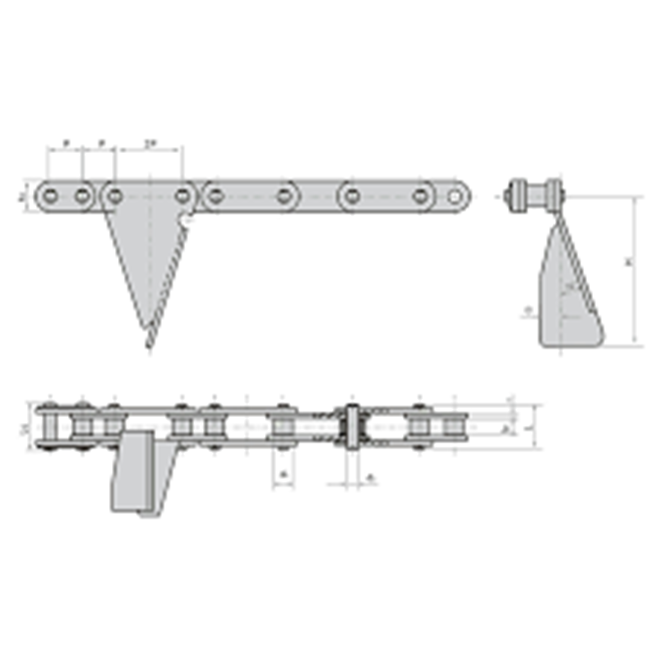 Detail Information
No.208AF2/208AF3/208AF3A Dimensions
Combine Chains Specifications
Service & Quality controlWe supply detailed drawings and offer whenever necessary.
Chain No.
Pitch(mm)
Roller Diameter(mm)
Width between inner plates(mm)
Pin diameterd2
(mm)
Pin lengthL1
(mm)
Pin lengthL2
(mm)
Pin lengthLc
(mm)
Inner plate depthh2(mm)
Tensile strengthkN/lbf

Roller Chain Parts Every chain is connected at the ends to form a complete circle or chain loop by a master connecting link. Cotter plates or spring clips keep the connecting link's pins from working loose.

Average tensile strength kN
208AF2
12.7
7.95
4.80
3.96
13.1
14.7
14.5
12.0
13.8/3136
16.0
208AF3
12.7
7.95
4.80
3.96
13.1
–
14.5
12.0
13.8/3136
16.0
208AF3A
12.7
7.95
7.85
3.96
16.6
–
17.8
12.0
13.8/3136
16.0
POProduct Information
Flexible combine chains

The products are made of high quality alloy
steel production. The plates are punched and squeezed bores by precision
technology. The pin, bush, roller are machined by high-efficiency automatic
equipment and automatic grinding equipment, then through heat treatment of carburization,
carbon and nitrogen protection mesh belt furnace, surface blasting process etc.
Made from the steel and the up-to-date skills as well as precision procedures, the combine chains can withstand strong pressure and high temperature.
Availability:
* Standard chains
* Customized chains
Quality Assurance:
ISO9001: 2015 and
GB/T24001-2016 / ISO14001: 2015.

High quality: 
√Corrosion resistance
√Durable, Robust and
Reliable
√Bad condition
resistance
√Lower weight–high
speed
Services:
√Surface treatment
√Hardened teeth
√Serious quality control
Application industries:
√Manufacturing
√Agriculture
√Building Material
√Oil and Gas
√Technology and Science
……
High Precision Roller Chain China Manufacturer