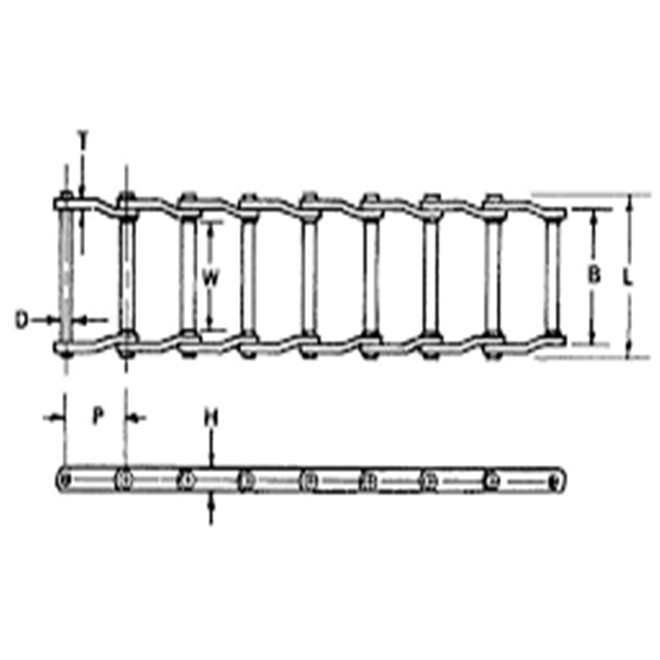 Detail Information
No. WD102/WD104/WD110/WD112/WD113/WD116/WD118/WD122/WD480 Dimensions
Welded-Type-Steel Drag Chains Specifications
ANSIChain No.
Pitch(mm)
Bush A-A section length (mm)
Bush B-B section length (mm)
Width between narrow linked (mm)
Pin diameter end(mm)
Width over narrow linked (mm)
Width between broad linked (mm)
Plate depth(mm)
Max pin length (mm)
Min pin lengthWith many years' experience in these lines, we have been distinguished from other suppliers in China by our advantages in competitive pricing, on-time delivery, prompt responses, on-hand engineering support and good after-sales services. (mm)
Plate thickness(mm)
Tensile strengthonly pin hardened
kN/lbf
WD102
127.0
31.7
39.1
162.0
19.13
197.1
197.6
38.12
255.6
245.4
9.7
170/38217
WD104
152.4
31.7
39.1
104.6
19.13
136.9
137.4
38.12
188.0
181.4
9.7
170/38217
WD110
152.4
31.7
39.1
228.6
19.13
263.9
264.4
38.12
315.0
308.6
9.7
170/38217
WD112
203.2
31.7
39.1
228.6
19.13
263.9
264.4
38.12
315.0
308.6
9.7
170/38217
WD113
152.4
33.2
39.1
228.6
22.30
270.2
270.7
38.12
330.2
322.3
12.7
213/47884
WD116
203.2
36.6
45.2
330.2
19.13
359.1
259.6
45.21
410.4
405.9
9.7
245/55078
WD118
203.2
44.5
51.8
336.5
22.30
378.2
378.7
51.80
440.0
431.1
12.7
311/69916
WD122
203.2
44.5
51.8
222.2
22.30
260.6
261.1
51.80
324.2
314.5
12.7
311/69916
WD480
203.2
44.5
51.8
282.4
22.30
324.0
324.6
51.80
387.6
378.0
12.7
311/69916
Product Information
Hot Sale Flexible welded steel type drag chains

The
high quality flexible welded-steel-type drag chains can be applied for
various  industries especially in
engineering. Made from the steel and the up-to-date skills as well as precision
procedures, the durable engineering steel bush chains can withstand strong pressure
and high temperature so that can fit all of your requirements in construction.
Availability:
* Standard chains
* Customized chains
Quality Assurance:
ISO9001: 2015 and
GB/T24001-2016 / ISO14001: 2015.EPG is a leading supplier of high quality, cost-effective power transmission components. As our product lines continue to expand to meet our customer's needs, our commitment to personalized customer service and on-time delivery remains second to none.

High quality: 
√Corrosion resistance
√Durable, Robust and
Reliable
√Bad condition
resistance
√Lower weight–high
speed
Services:
√Surface treatment
√Hardened teeth
√Serious quality control
Application industries:
√Manufacturing
√Agriculture
√Building Material
√Oil and Gas
√Technology and Science
……