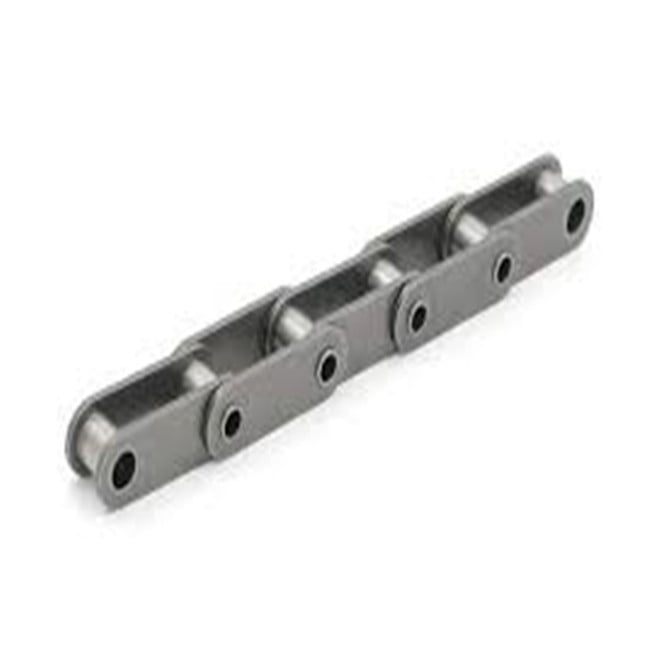 Detail Information
No. S1571/S110/S111/S131/S150/S188/S856/S857/S859/S864Dimensions
Engineering Steel Bush Chains Specifications
| | | | | | | | | | | |
| --- | --- | --- | --- | --- | --- | --- | --- | --- | --- | --- |
| ANSIChain No. | Pitch(mm) | Bush diameter(mm) | Width between inner plates(mm) | Pin diameter(mm) | Pin length(mm) | Plate depth(mm) | Plate thickness(mm) | Tensile strengthkN/lbf | Average tensile strengthkN | Weight per meter(kg/m) |
| S102B | 101.60 | 25.40 | 54.10 | 15.88 | 111.3 | 38.10 | 9.7 | 160.0/35993 | 176.0 | 10.40 |
| S110 | 152.40 | 32.00 | 54.10 | 15.88 | 111.3 | 38.10 | 9.7 | 160.0/35993 | 176.0 | 9.80 |
| S111 | 120.90 | 36.60 | 66.80 | 19.05 | 131.2 | 50.80 | 9.7 | 214.0/48141 | 235.4 | 15.90 |
| S131 | 78.11 | 32.00 | 33.50 | 15.88 | 90.5 | 38.10 | 9.7 | 160.0/35993 | 176.0 | 11.60 |
| S150 | 153.67 | 44.70 | 84.30 | 25.40 | 164.6 | 63.50 | 12.7 | 378.0/85034 | 416.0 | 25.70 |
| S188 | 66.27 | 22.40 | 26.90 | 12.70 | 68.6 | 28.40 | 6.4 | 102.0/22946 | 112.2 | 5.60 |
| S856 | 152.40 | 44.40 | 76.20 | 25.40 | 154.9 | 63.50 | 12.7 | 365.0/82110 | 401.5 | 25.00 |
| S857 | 152.40 | 44.40 | 76.20 | 25.40 | 154.9 | 82.60 | 12.7 | 432.0/97182 | 475.2 | 32.00 |
| S859 | 152.40 | 60.40 | 95.30 | 31.75 | 188.5 | 101.60 | 16.0 | 690.0/155221 | 759.0 | 55.90 |
| S864 | 177.80 | 60.40 | 95.30 | 31.75 | 188.5 | 101.60 | 16.0 | 690.0/155221 | 759.0 | 51.80 |
Product Information
Hot Sale Flexible Engineering steel bush chains

The
high quality flexible engineering steel bush chains can be applied for
various  industries especially in
engineering. Made from the steel and the up-to-date skills as well as precision
procedures, the durable engineering steel bush chains can withstand strong pressure
and high temperature so that can fit all of your requirements in construction.
Availability:
* Standard chains
* Customized chains
Quality Assurance:
ISO9001: 2015 and
GB/T24001-ISO 9001 certified manufacturer of precision roller chains. Types include single and multiple strand, hollow pin, side bow, rollerless, self-lubricating, straight sidebar, double pitch, brushed, nickel plated, armor coated, 304 stainless steel, leaf, hoist and O-ring, citrus, sorting and caterpillar roller chains.2016 / ISO14001: 2015.

High quality: 
√Corrosion resistance
√Durable, RobustOur technicians and engineers have 23 years of Experience in the Bearing Industry. and
Reliable
√Bad condition
resistance
√Lower weight–high
speed
Services:
√Surface treatment
√Hardened teeth
√Serious quality control
Application industries:
√Manufacturing
√Agriculture
√Building Material
√Oil and Gas
√Technology and Science
……