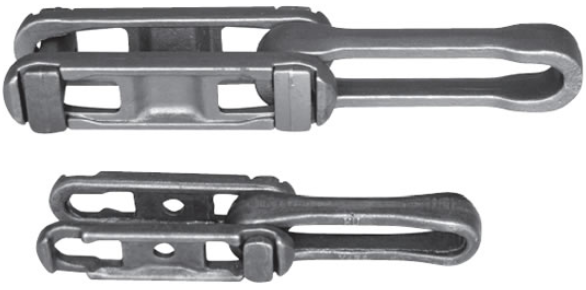 Detail Information
No.X348-F100X24 Dimensions
Drop Forged Chains Specifications
Standard
Chain No.
Reference pitch P (mm)
Diameter of pin d2 (mm)
Length of pin L (mm)
Standard length (min/max) (mm)
Number of pitch within standard length
Sideward bending angle α (°)
Width of sidebar h2 (mm))
Tensile strengthkN
Average tensile strength kN
British system series
X348
76.6
12.7
47
3050.5/3095.2
40
9
27
98
2.7
X458
102.4
16
58
3063.1/3090.2
30
9
35
187
5.2
468H
102.4
19.5
84.1
3063.1/3090.2
30
9
47.8
311.7
11.5
X678
153.2
22.3
77
3055.1/3082.8
20
7
51.6
318
9.5
698
153.2
28
95.3
3055.1/3082.8
20
7
60
515
17
698H
152.4
39
154
3039.2/3066.6
20
7
72
1078
37.7
Metric system series
F100X16
100
15.5
77
2991.3/3018.3
30
9
35
187
4.7
F100X17
100
17
77
2991.3/3018.3
30
9
35
187
4
F160X24
160
23.5
96
3190.7/3219.5
20
7
51.6
318
10.3
British system series
X348
76.6
12.7
47
3050.5/3095.2
40
9
27
98
2.7
X458
102.4
16
58
3063.1/3090.2
30
9
35
187
5.2
468H
102.4
19.5
84.1
3063.1/3090.2
30
9
47.8
311.7
11.5
X678
153.2
22.3
77
3055.1/3082.8
20
7
51.6
318
9.5
698
153.2
28
95.3
3055.1/3082.8
20
7
60
515
17
698H
152.4
39
154
3039.2/3066.6
20
7
72
1078
37.7
Metric system series
F100X16
100
15.5
77
2991.3/3018.3
30
9
35
187
There is a technical center of province level, EPG academician working station, experiment station for EPG post doctors, and national 863 program set up in EPG group. With these platforms and strong technical ability, the more than 400 technicians have developed all variety of special high precise and high strength products, conducted mold programs for key components in the car and national industry revitalizing program, resulting more than 5000 developed over, among which 33 items are autonomous patent technology with 4 patent approved .4.7
F100X17
100
17
77
2991.3/3018.3
30
9
35
187
4
F100X24
160
23.5
96
3190.7/3219.
20
7
51.6
318
10.3
Product Information
Durable drop forged chain

The products are made of high quality alloy
steel production. The platesManufacturer of standard and custom roller chains. Suitable for aging, stress relieving, heat treating and powder coating applications. Aerospace, automotive, military, energy, composite, pharmaceutical and various other industries served. Turnkey systems integration and most items available in stock. are punched and squeezed bores by precision
technology. The pin, bush, roller are machined by high-efficiency automatic
equipment and automatic grinding equipment, then through heat treatment of carburization,
carbon and nitrogen protection mesh belt furnace, surface blasting process etc.
Made from the steel and the up-to-date skills as well as precision procedures, the drop forged chains can withstand strong pressure and high temperature.
Availability:
* Standard chains
* Customized chains
Quality Assurance:
ISO9001: 2015 and
GB/T24001-2016 / ISO14001: 2015.

High quality: 
√Corrosion resistance
√Durable, Robust and
Reliable
√Bad condition
resistance
√Lower weight–high
speed
Services:
√Surface treatment
√Hardened teeth
√Serious quality control
Application industries:
√Manufacturing
√Agriculture
√Building Material
√Oil and Gas
√Technology and Science
……
Roller Chain High Quality China Supplier