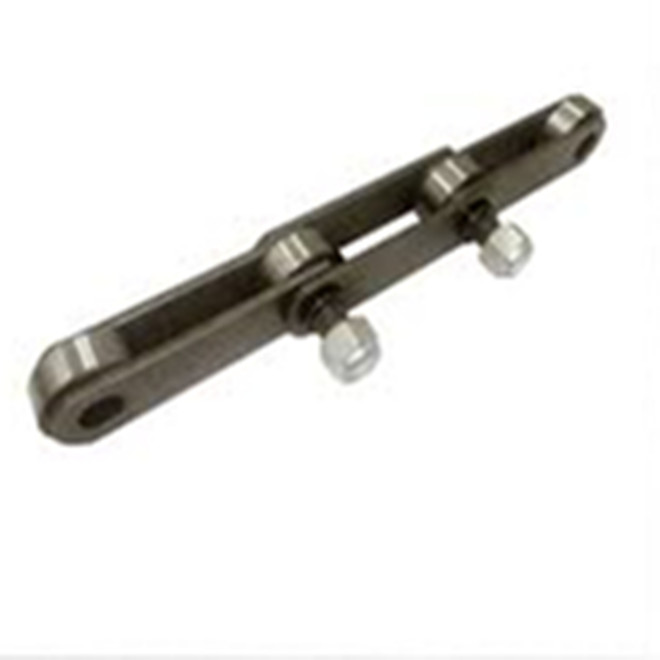 Detail Information
No.PO152F4-PO152F27 Dimensions
Palm Oil Chains Specifications
Chain No.
Pitch(mm)
Roller Diameter(mm)
Width between inner plates(mm)
Plate depth(mm)
Pin diameter
(mm)
Pin lengthL
(mm)
Pin lengthLc
(mm)
Plate thickness(mm)
Tensile strengthkN/lbf
Average tensile strength kN
Weight per meterkg/m
PO152F4
152.40
69.85
38.10
57.15
21.48
101.00
110.0
12.7
440.0/98912
484.00
22.77
PO152F7
152.40
88.90
38.00
61.00
31.80
83.50
92.0
10.0/8.0
380.0/85242
418.00
23.50
PO152F17
152.40
66.70
25.40
50.80
27.00
67.50
78.0
8.0
163.3/36710
179.63
12.83
PO152F22
152.40
66.70
26.00
50.00
27.00
59.30
69.8
7.0/5.0
200.0/45454
220.00
10.90
PO152F23
152.40
66.70
26.00
50.00
26.90
61.80
69.1
7.1/7.5
200.0/45454
220.00
10.90
PO152F24
152.40
88.90
38.00
60.00
32.00
85.40
96.0
10.0/8.0
380.0/85242
418.00
23.00
PO152F25
152.40
88.90
38.00
60.00
32.00
89.40
120.3
10.0
380.0/85242
418.00
24.20
PO152F26
152.40
66.70
26.00
50.00
26.90
65.80
87.0
7.1
200.0/45454
220.00
11.90
PO152F27
152.40
66.70
25.40
50.80
27.00
71.50
99.0
9.0
267.0/60571
293.70
14.00
POProduct Information
The products are made of high quality alloy
steel production. The plates aThe group has taken part in the making and revising of ISO/TC100 international chain standard several years in success and hosted the 16th ISO/TC100 International annual meeting in 2004. re punched and squeezed bores by precision
technology. The pin, bush, roller are machined by high-efficiency automatic
equipment and automatic grinding equipment, then through heat treatment of carburization,
carbon and nitrogen protection mesh belt furnace, surface blasting process etc.
Made from the steel and the up-to-date skills as well as precision procedures, the palm oil chains can withstand strong pressure and high temperature.
Availability:
* Standard chains
* Customized chains
Quality Assurance:
ISO9001: 2015 and
GB/T24001-2016 / ISO14001: 2015.

High quality: 
√Corrosion resistance
√Durable, Robust and
Reliable
√Bad condition
resistance
√Lower weight–high
speed
Services:
√SurfaStandard single-strand roller chain, standardized by ASME, is an assembly of alternating pin links and roller links. The distance between pin centers is called the pitch. The pitch is what categorizes the size of the chain. The larger the pitch, the higher the load rating. Chains with small pitches carry smaller loads, operate more quietly, and at higher speeds. Multi-strand, small-pitch roller chains are a good solution for high-load, high-speed applications.ce treatment
√Hardened teeth
√Serious quality control
Application industries:
√Manufacturing
√Agriculture
√Building Material
√Oil and Gas
√Technology and Science
……
High Precision Roller Chain China Manufacturer